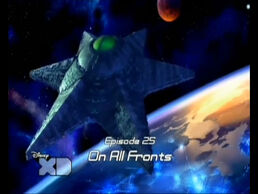 On All Fronts the seventy seven episode of Galactik Football and the twenty five episode of the third season.
While Aarch and Norata are desperately searching for the Multi-flux bomb, the Snow Kids have their last training session before the Final with Team Paradisia. Sinedd and D'Jock decide to put aside their differences. And though the strategy for the finals is prepared, the ultimate showdown between Harris and the Pirates impends.
Episode Notes
Edit
Ad blocker interference detected!
Wikia is a free-to-use site that makes money from advertising. We have a modified experience for viewers using ad blockers

Wikia is not accessible if you've made further modifications. Remove the custom ad blocker rule(s) and the page will load as expected.